Your Child's First Dental Visit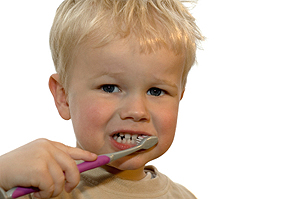 We are excited about your child's first dental visit and it is very important to us! Whether this is your child's first dental visit or first visit with us, having a positive attitude will make a great impression on your child. Our staff will review the health history form with you at the first visit. Your child will be introduced to our dental team and invited to tour the office. You are welcome to accompany your child into the treatment area during the initial exam. This will give you the opportunity to see our staff in action. In addition, this will allow Dr. Dunston to answer your questions and discuss dental findings and treatment directly with you.
During your child's initial exam, Dr. Dunston will evaluate the health of your child's mouth, teeth and supporting tissues. In addition, he will evaluate the occlusion (the way your child's teeth bite together). We will review your child's diet, oral hygiene and a fair amount of time will be spent discussing the causes and prevention of dental disease. Dental radiographs (xrays) are taken only as they are deemed necessary and are used to assure a thorough and comprehensive evaluation. We will also spend time educating your child on proper brushing techniques. We will also discuss fluoride supplementation, and orthodontic assessment as needed. Finally, your child's teeth will be cleaned and a topical fluoride applied. Please note that additional services will be scheduled for a later visit.