Meet the doctors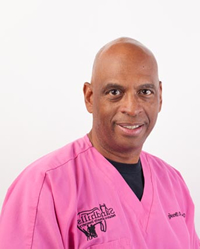 Dr. Sidney Brooks
Board Certified General Dentist
I earned my Doctor of Dental Surgery (DDS) degree from Meharry Medical College, located in Nashville Tennessee in 1982. I then served on active duty as a comprehensive dentist with the United States Army Dental Corps until I retired in 2005 as the DENCOM Commander. It brings me great pride to say that in this role, I successfully supervised all of the dental clinics for Army personnel world-wide.
I am a Diplomate of both the Federal Services and the American Board of General Dentistry. In addition, I attained my Mastership in the Academy of General Dentistry in 2003. I have lectured around the world and published several articles on dentistry. I strive to stay current in the field of dentistry and I have accumulated more than 50 hours of continued education each year.
My philosophy in private practice is "Teach, Grow, and Develop." I live by this philosophy and I use it to educate my phenomenal team and awesome patients. I strive to provide the very best dental care to my patients each and every day I open the doors of our office. Therefore, my promise to my patient is that from your first contact with us, I along with my team will put your dental needs first.
I reside in Fayetteville, NC with my strong and supportive wife, Colonel Marilyn Brooks, who is currently serving on active duty at Fort Bragg. I have two wonderful sons and two beautiful granddaughters.
Dr. Bryan Dunston
Board Certified Pediatric Dentist
Dr. Bryan Dunston graduated from St. Mary's College of Maryland with a Bachelor of Arts degree in chemistry. He then went to dental school and earned a Doctor of Dental Surgery degree from the University of Maryland Dental School in 2001. Upon graduation, he was accepted to the General Practice Residency program at Long Island Jewish Medical Center and Schneider's Children's Hospital in New York. Dr. Dunston later returned to Baltimore to serve as Chief General Practice Resident at the University of Maryland Medical Center. During his tenure, he was appointed as a Clinical Post-Doctoral Fellow in the department of Otolaryngology-Oral Medicine Division at the Johns Hopkins Hospital.
Dr. Dunston completed his specialty training in Pediatric Dentistry at the University of Maryland Dental School in 2005. He is an active member of the North Carolina Academy of Pediatric Dentistry and the American Academy of Pediatric Dentistry. Dr. Dunston has hospital privileges at Southeastern Regional Medical Center in Lumberton; Cape Fear Valley and Highsmith Rainey Hospitals in Fayetteville; and Central Carolina Hospital in Sanford.
Dr. Dunston is a Board Certified Pediatric Dentist and is a Diplomate of the American Board of Pediatric Dentistry. Dr. Dunston currently lives in Raleigh, NC with his wife and two cats. In his spare time, he enjoys outdoor activities such as running and mountain biking at Umstead State Park in Cary.
Dr. Elizabeth Heyn
Board Certified General Dentist
Dr. Elizabeth Heyn graduated from the University of Michigan with a Bachelor of Science degree in Kinesiology in 2003. She then attended dental school with a military scholarship and earned a Doctor of Dental Surgery degree from the University of Michigan in 2007. Upon graduation from dental school Dr. Heyn was stationed at Ft. Bragg, NC where she completed a two-yearresidency in Advanced Education in General Dentistry. Dr. Heyn enjoys all aspects of general dentistry; this includes complex treatment planning, oral surgery, root canal therapy, crowns, bridges, cosmetics, implant restorations, and fillings.
Upon completion of her residency, Dr. Heyn served and provided dental care for the soldiers atLaflamme dental clinic, Fort Bragg, NC for an additional four years. She earned her Diplomate from the American Board of General Dentistry in 2010. Dr. Heyn is a member of the American Dental Association, Academy of General Dentistry and Lee County Dental Society.
Dr. Heyn currently lives in Sanford, NC with her husband and son. She enjoys many outdoor activities to include running, hiking, biking, and golfing.